The sensXPERT Digital Cloud Service 
In the last two weeks, we introduced three components of our Equipment-as-a-Service sensXPERT Digital Mold solution. Specifically, we covered the sensXPERT material characterization sensors, edge device, and edge device interface. To round out this series, we will take a closer look at the final element of Digital Mold – the sensXPERT Digital Cloud Service.
Developed in collaboration with Amazon Web Services (AWS), the sensXPERT Digital Cloud Service – hereafter referred to as the sensXPERT Cloud – is a digital environment aimed at furthering Manufacturing 4.0 in the plastics manufacturing industry. Before fully tackling the final part of our solution, this article will outline the basics of cloud computing technology. After grasping the basics, we will break down sensXPERT's use of cloud computing technology, its connection to machine learning, and the advantages of the sensXPERT Cloud for manufacturers.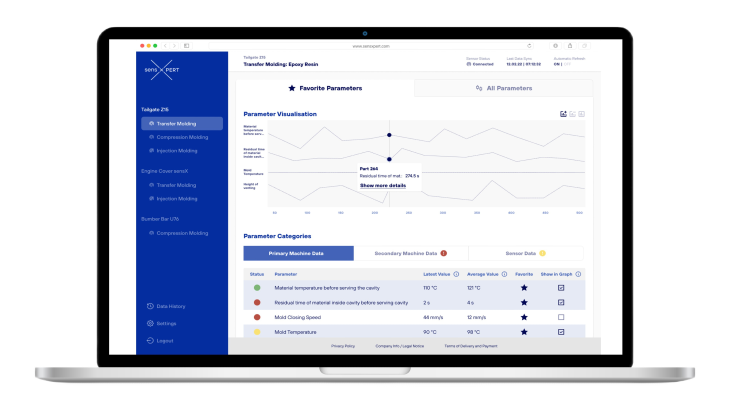 What is Cloud Computing Technology?
Cloud computing is the digital offering of computing resources – servers, databases, and storage – through internet-connected devices. Internet-connected devices include smartphones, computers, tablets, etc. The computing resources are typically hosted at data centers that cloud service providers, such as AWS, manage. Additionally, cloud computing offers many advantages, such as cost and time savings, which have propelled many organizations into seeking out cloud computing services.
The following encompasses a few more key benefits of cloud computing technology:
On-Demand Access: Cloud users can access cloud services, such as storage and applications, as desired and without reliance on physical hardware or local infrastructure.
Scalability: Organizations and users can flexibly scale their use of Cloud services up or down based on demand.
Resource Sharing: Multiple users or organizations can use the same physical infrastructures when using Cloud services, thus leading to efficient resource utilization.
How does edge computing compare?
Our previous article highlighted the sensXPERT edge device, which utilizes edge computing. sensXPERT Digital Mold is valuable in its use of both edge and cloud computing, but how do they compare?
While cloud computing, as previously mentioned, delivers remote resources through cloud service providers, edge computing processes and analyzes data closer to the sources of data generation. Cloud computing succeeds in its handling of large-scale data processing and storage. On the other hand, edge computing excels in real-time data processing.
Despite each having its advantages, the two types of computing can also complement one another. sensXPERT reaps the benefits of edge and cloud computing through the sensXPERT edge device, edge device interface, and Cloud service. The sensXPERT edge device and interface employ edge computing to process data at the edge for real-time action and insights. As will be further elaborated upon, the sensXPERT Cloud wields cloud computing to aggregate and analyze data. Additionally, cloud computing and the sensXPERT Cloud allow for deeper analysis and observation of broader process trends.
How Does sensXPERT Use Cloud Technology?
The sensXPERT material characterization sensors collect in-mold data, and the edge device and interface use the data to conduct real-time process analysis and predict process outcomes. The sensXPERT Cloud is the final component of sensXPERT's digital manufacturing solution.
sensXPERT's digital capabilities are cultivated in the sensXPERT Cloud. At its most foundational level, the sensXPERT Cloud stores and visualizes all process data to manufacturers. Everything collected and calculated by the edge device is effectively transmitted, validated, and displayed in the sensXPERT Cloud.
All of this information is presented in the form of customizable graphs and dashboards. These dashboards can be customized to track process trends and performance based on specified parameters. At the same time, any parameter deviations or variations can be highlighted to aid process engineers in identifying causes of errors or areas of optimization in production.
Additionally, sensXPERT facilitates interconnectivity. If a manufacturer has several sensXPERT-connected machines across various locations, they can log in to their sensXPERT Cloud account and remotely compare data from multiple sites. The Cloud dashboards provide an overview of the different processes and machines, whether on a global or more local scale.
Moreover, while the edge device uses predictive machine learning algorithms, the sensXPERT Cloud facilitates machine learning retraining. Machine learning retraining is essential for reacting and adapting to potential changes in the manufacturing process, such as material aging and other influential factors that may change over time. Retraining in the sensXPERT Cloud is triggered by changes in manufacturing conditions or the availability of new data. Therefore, the retrained models can be returned to the edge device and applied to subsequent cycles with condition changes being accounted for.
Advantages of the sensXPERT Digital Cloud Service
With customizable dashboards, interconnectivity, machine learning retraining, and abundant insightful information, manufacturers also gain several advantages using the sensXPERT digital Cloud service.
A Digital Thread Per Part Produced
By storing, visualizing, and hosting all measurement data previously recorded by sensXPERT, the sensXPERT Cloud offers a digital thread per part produced. All of the measurement data can also be downloaded from the sensXPERT Cloud. This allows for a comprehensive record of a plastic part's entire production cycle, which is beneficial in adhering to regulatory reporting requirements – such as the EU Taxonomy.
Additionally, a digital thread is beneficial for quality assurance in manufacturing. For instance, if defects or errors are found in a plastic part's downstream quality assurance tests, the digital record of the part's in-mold behavior can ease finding the cause of the error.
Remote Process Tracking
The sensXPERT Cloud allows manufacturers to track all their processes remotely. With an active internet connection, Cloud users can visualize the processes and identify the trends within their entire manufacturing network from anywhere.
Process Intelligence and Optimization
The sensXPERT Cloud generates process-level overviews following completed cycles. By comparing different completed cycles and process data across a business' manufacturing network, the sensXPERT Cloud benefits manufacturers by identifying areas of improvement and optimization. On top of that, consistent machine learning retraining guarantees the refinement of process intelligence in the manufacturing environment.
With that, we wrap up our latest series on the sensXPERT Digital Mold solution. In summary, our first article explored material characterization and sensXPERT's durable sensor technology, our second article highlighted the robust, real-time predictive capabilities of the sensXPERT edge device and interface, and this third and final article tackled cloud computing, and our sensXPERT digital Cloud service.
If you want to learn more about the sensXPERT solution, try our AR Experience!  
Are you interested in discovering how sensXPERT can optimize your specific manufacturing processes? Reach out to our sensXPERTs via the contact page.