EU taxonomy: How SMEs in the plastics industry are affected
The plastics industry is under increasing pressure to introduce sustainable production processes. In the case of suppliers, companies must disclose information about the sustainable practices they implement throughout their processes.
Since January 2023, access to finance has been linked to a set of sustainability criteria.
Throughout this blog article, we explain the impact this may have on your company and how you can best adjust to the realignment of the financial market.
What is the EU Sustainable Finance Action Plan?
In June 2020, the EU Taxonomy (Regulation 2020/852), an initiative of the European Union, was launched to redesign the European financial system. The aim of the EU taxonomy is to create a more sustainable financial system that supports the transition to a low-carbon economy.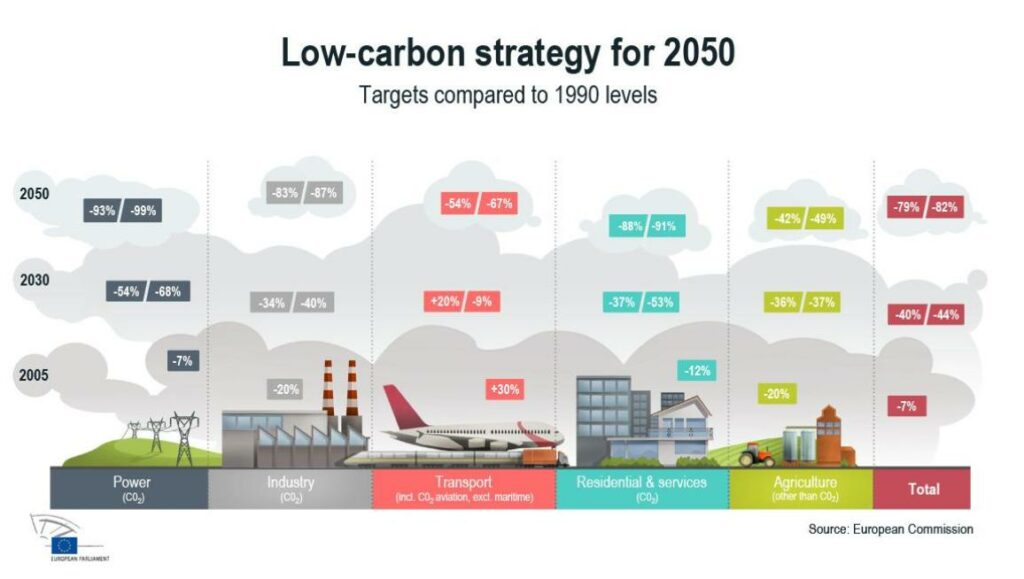 The goal of operating and living emission-free by 2050 is to be achieved, among other things, by directing investments and capital into low-emission economic activities. The new, "green" financial market must therefore contribute to achieving the EU's environmental and climate goals by:
Using "green" financial resources that contribute to reducing the carbon footprint
Promoting responsible investment practices
Using climate-relevant company information and standards
Disclosing sustainability risks
Since 1 January 2023, the taxonomy has been aiming to create a coherent and Europe-wide uniform framework for the allocation of investment funds, not only for capital market-oriented companies but for companies of all sizes. Although the regulation excludes small and medium-sized enterprises (SMEs), they are certainly covered by their supply chains.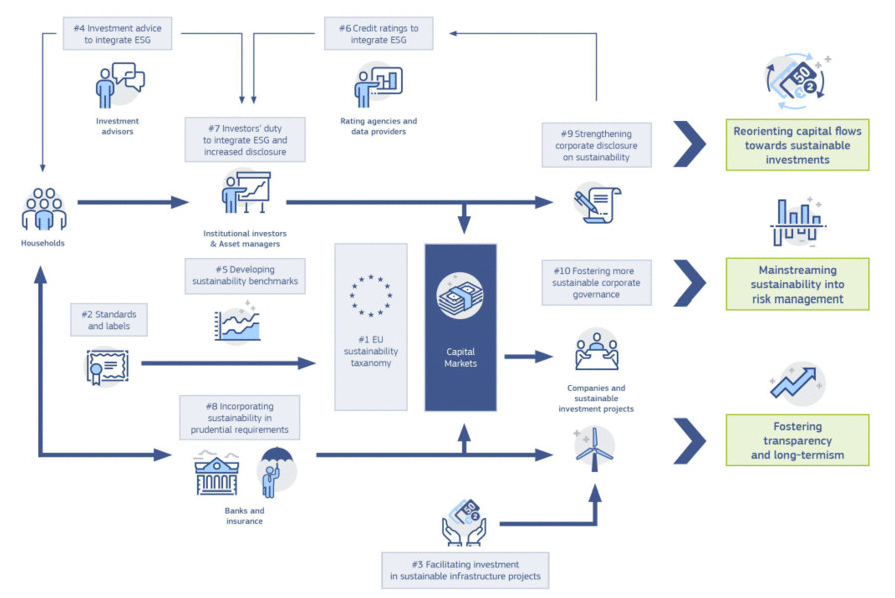 Visualisation of the actions. Source: European Commission
What are sustainable economic activities, according to the new EU taxonomy?
The Taxonomy Regulation classifies what is considered a sustainable economic activity. More explicitly, sustainable economic activities contribute to the achievement of the six EU climate and environmental goals:
Climate protection
Adaptation to climate change
Sustainable use and protection of water and marine resources
Transition to a circular economy
Pollution prevention and control
Protection and restoration of biodiversity and ecosystems
In order to be classified as a sustainably operating company, the evaluation criteria set out in the taxonomy for various economic activities must be met. 
Why the EU Sustainable Finance Action Plan also affects SMEs
One pillar of the EU taxonomy is to link the future granting of loans and other subsidies to certain sustainability parameters. All companies are obliged to disclose certain information on the subject of sustainability in the case of loans and other subsidies. This duty to provide information makes the topic of "sustainable production" an integral part of the decision-making process for financial institutions and investors.
As previously touched upon, the taxonomy's evaluation criteria not only affect capital market-oriented companies, but also small companies and German SMEs. While SMEs already had to disclose information on their production processes indirectly – as suppliers – since 1 January 2023 they have been directly affected when being granted loans. The following section more concretely details the impact of the EU taxonomy on SMEs.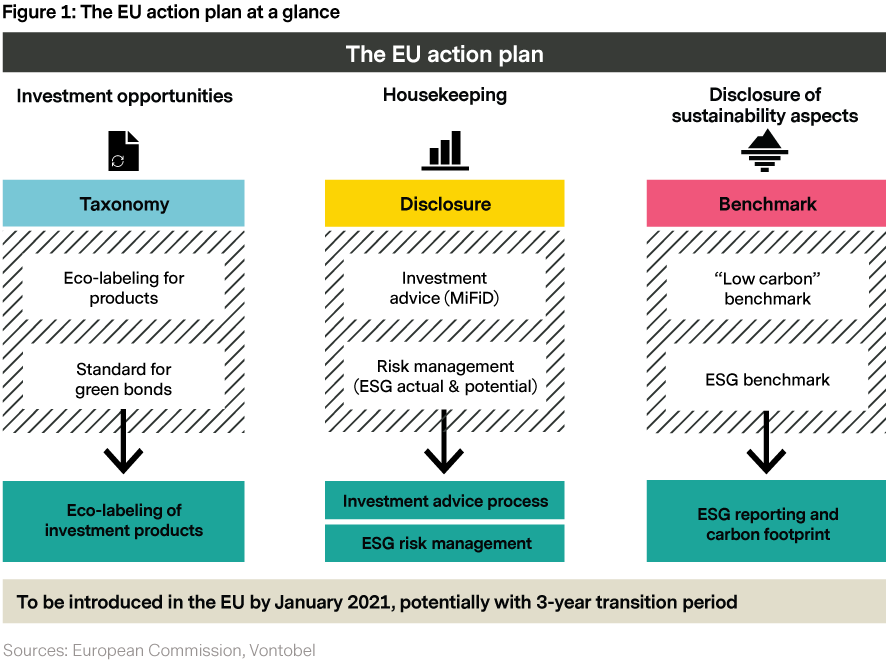 Shifting capital and investment resources toward sustainability
With the introduction of the new EU taxonomy, politicians have linked the disclosure of so-called sustainability information to the granting of loans and other subsidies.
The consequence for smaller companies that cannot sufficiently meet the banks' information obligations could be more expensive credit conditions or even the rejection of essential financial resources.
→ SMEs that are unable to provide sustainability information or are unable to provide sufficient sustainability information might be disadvantaged when being granted loans.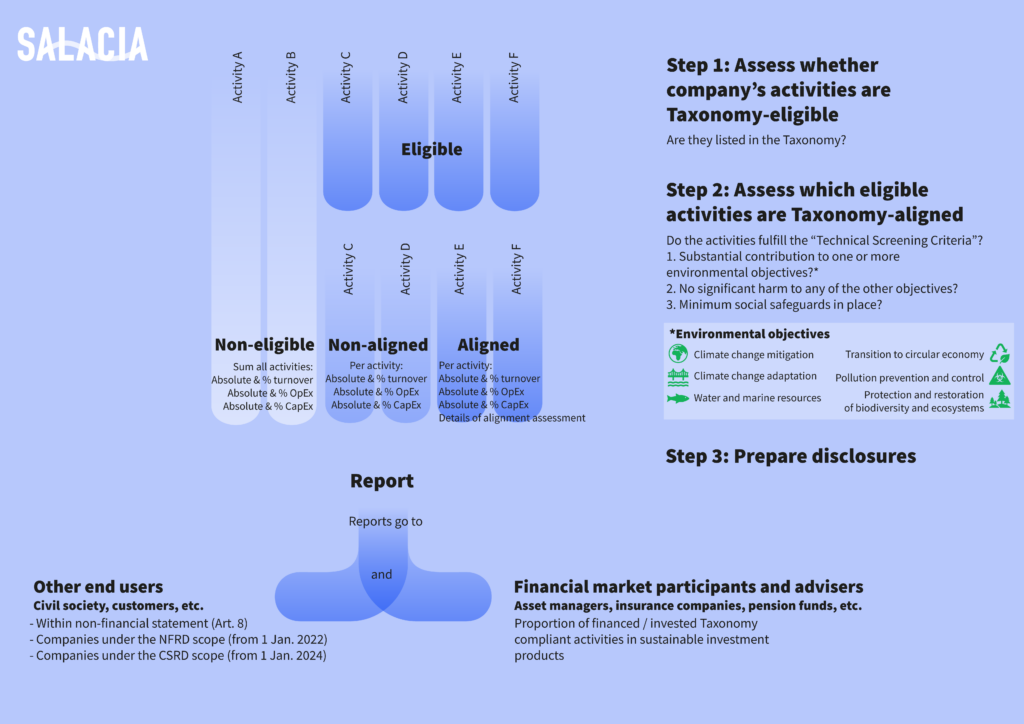 EU Taxonomy reporting requirements. Source: Salacia
What small and medium-sized companies now have to consider
In order to maintain the usual access to important loans and debt capital, it is important to familiarize yourself with the new EU taxonomy and to be aware of the effects on your own business model. Do you finance your company with debt capital? If so, what economic activity is currently supported by investment?
→ Since the realignment of the financial system has a significant impact on all actors involved, discussion and adjustment are advisable.
The plastics industry: opportunities and risks of the EU taxonomy
The need for sustainable, lightweight, and efficient materials that support the transition to new technologies offers huge opportunities for the plastics industry.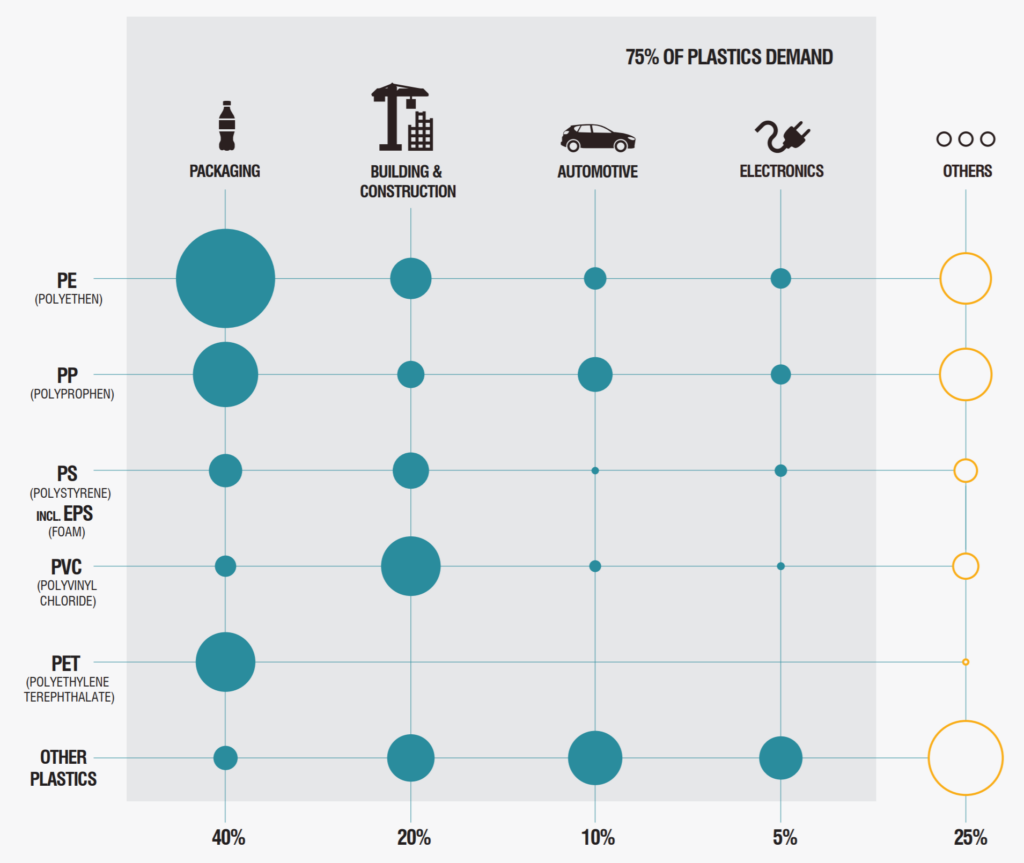 Share of European plastics demand in 2017. Source: Adapted from Materials Economic
However, the increased demand for materials such as thermosets or thermoplastics presents the traditional plastics industry with some hurdles. 
Among challenges such as the shortage of skilled workers and high rejection rates due to a lack of production experts, the plastics industry must also comply with the new sustainability standards and reporting obligations.
Therefore, as a supplier and player in the financial market, the possibility of being at risk of having limited access to loans or being excluded from supply chains must be taken seriously. However, there are also great opportunities for plastics producers that invest in sustainable production techniques and are able to prove this through sustainability reports.
→ By investing in "green" technologies, companies can secure access to attractive credit conditions thus expanding major competitive advantage over competitors who miss out on this change.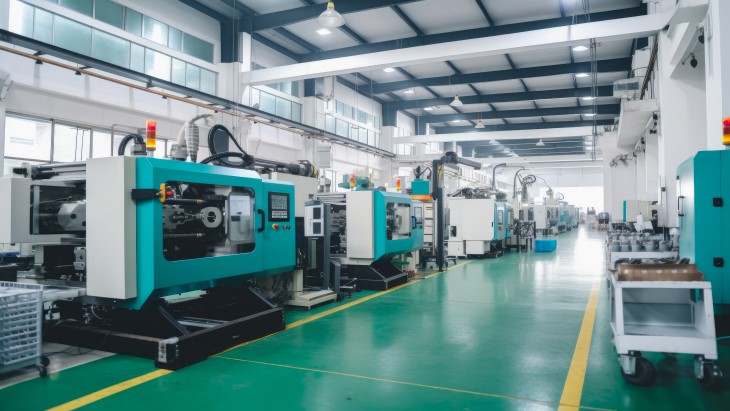 Process optimization and sustainability reports for the plastics industry
The reduction of plastics consumption, the reduction of the rejection rates, and the use of more efficient manufacturing processes offer great potential for companies in the plastics industry. To be able to document and prove these process optimizations in sustainability reports, new technologies that monitor and document sustainable plastics production are necessary. In the next section, we will introduce what this can look like for plastics manufacturers.
How to practice sustainable plastics production and reporting with AI
If you are looking for a way to gain full transparency and control over your production process, sensXPERT Digital Mold is the perfect solution. With AI and intelligent sensors, sensXPERT provides detailed insight into possible material deviations and enables you to intervene in production to reduce scrap rates, energy consumption, and increase overall process efficiency.
The continuous monitoring with material characterization sensors and data analysis through machine learning algorithms allows for effective quality control and process documentation that can serve as the basis of your sustainability reporting.
That being said, sensXPERT is ideally suited to manufacturers who want to optimize their processes and implement sustainable plastics production practices. At the same time, this technology provides customers with proof that optimized, sustainable processes can result in high-quality products.
If you want to learn about sensXPERT Digital Mold, head to our 'How it works' page and try out our engaging AR Experience.