The global automotive plastics market had a value of around 36 billion USD in 2019 [1]. However, as was the case in most industries, the COVID-19 pandemic brought on several repercussions for the automotive industry. Examples include but are not limited to supply chain interruptions, factory shutdowns, and declining consumer demand. These repercussions led to a dip of 29.50 billion USD in market value in 2022 [2].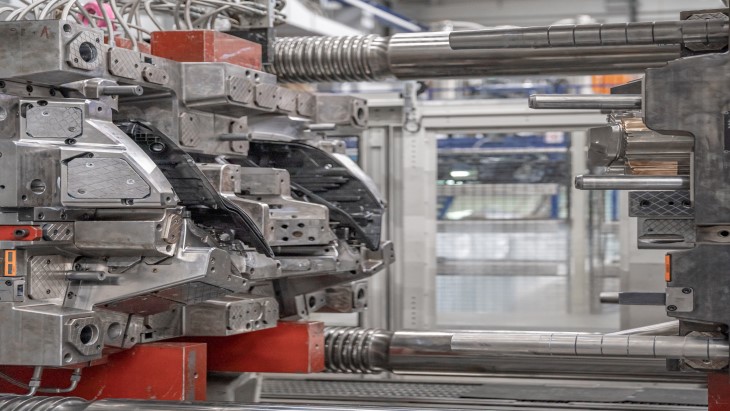 However, with the industry being in a phase of post-pandemic recovery, its market value has risen to 30.44 billion USD in 2023 [2]. Additionally, there is an expectation of a 5.2% compound annual growth rate from 2023 to 2030 [2]. A few considerations influencing the growth of the industry include the growing focus on vehicle lightweighting and the decrease in vehicle emissions.  
The market transition towards the use of lighter materials and alternative fuel powertrains in automotive production has brought on challenges for manufacturers. Manufacturers have to determine how to best integrate these new materials and power sources without compromising their production efficiency. Fortunately, especially in the case of automotive plastics manufacturing, technological advancements have been made to optimize plastics production, ease the implementation of new materials, and increase process efficiency.  
sensXPERT Digital Mold is an example of such advancements and by integrating it into manufacturing processes, automotive supplier ZF Friedrichshafen AG was able to reinforce both sustainability and efficiency in their manufacturing process, as will be detailed further on. 
The sensXPERT Digital Mold Solution
sensXPERT Digital Mold combines both hardware and software components to provide plastics manufacturers with real-time process control. The solution includes material characterization sensors that wield dielectric analysis to measure the material behavior of a range of materials, including thermosets, thermoplastics, elastomers, and composites. By combining the collected in-process dielectric data, the solution is capable of predicting the degree of cure/crystallization, glass transition temperature, or other relevant thermal and mechanical properties of a polymer.  
The sensors are also compatible with various manufacturing processes, including (reaction) injection molding, thermoforming, compression molding, transfer molding processes, vacuum infusion, and autoclave curing. 
The data streaming from the material characterization sensors are collected by an edge device, which is placed outside but close to the machines in which the molding process occurs. The edge device communicates with the machine by exchanging manufacturing parameters and material properties, while sending and receiving trigger signals. Additionally, the edge device is capable of connecting to and receiving real-time data from other third-party pressure and temperature sensors.  
The edge device has an interface for manufacturers to gain visualization of their processes, which allows them to effectively adjust their process parameters whenever necessary. The edge device also hosts sensXPERT's machine learning (ML) models, which are applied to all real-time data collected by the device. These models are capable of accurately forecasting material behaviour to enable dynamic process control and ensure consistent final part quality. 
The sensXPERT Digital Cloud Service is the final component in the Digital Mold solution and functions  by validating, storing, and visualizing all previously collected and analyzed process data. The Cloud enables interconnected machines across all manufacturing locations to learn from one another, while providing users with valuable process trends.  
The sensXPERT and ZF Friedrichshafen AG Collaboration
In 2020, sensXPERT began a collaboration with automotive supplier ZF Friedrichshafen AG. In its Synergy Group Electronics division, the company produces critical, high-power electronic components used in electric drive (powertrain) systems for eMobility. The process in question involved overmolding high-value electric components with reactive thermoset resins to encapsulate and seal the devices against dust, moisture, chemicals, fluctuating temperatures and humidity, as well as mechanical shocks in an end-use environment. With greater electrical integrity, products such as electric vehicles become more reliable by extending service life and reducing maintenance costs.  
sensXPERT's technology was evaluated on its performance to help reduce cycle time and material waste, lower energy usage, and enrich the automotive supplier's sustainable practices (therefore complying with E.U. taxonomy reporting).  
Before the collaboration, ZF's Electronics Systems business unit was setting up many new processing lines to encapsulate circuit boards for a new program with a major European automaker. The latest equipment and processing lines were to accommodate a new grade of reactive epoxy, chosen for its low viscosity during encapsulation and improved mold filling.  
The sensXPERT process monitoring system presented a unique opportunity to try new approaches in refining processes and reducing investment costs. The system was installed on one of the encapsulation molds to increase understanding of the impact of parameters inside and outside the mold on material behavior. This enabled the ZF team to examine material behavior consistency and monitor the reliable quality of encapsulated electronic components being produced on the new production line.   
Another strategy was to further understand the material behavior and its relationship to changes in the processing environment, both inside and outside the mold. Rather than controlling the process, a molder would set out to control material behavior by selecting a critical property that explained material behavior and indicated the quality of parts produced.  
The joint ZF/sensXPERT team ran a series of encapsulation studies with the new resin shot into an instrumented mold mounted in a new transfer press. The mold was instrumented with sensXPERT integrated dielectric sensors and temperature and pressure sensors. Classical process-control guidelines were used to examine the effect of DoC on the encapsulated parts.  
Collaboration Outcomes
After sensXPERT application specialists reviewed the preliminary process data and observed the DoC measurements from the dielectric sensors, they noticed several things. At a target DoC of 90%, all parts cured in less than a few minutes. Yet, comparing the curing times, some parts took significantly less time to achieve the target DoC than others. This potential for time-saving is lost if a fixed curing time with a safety margin for varying material batches and process drift is applied. With sensXPERT dielectric sensor data and predictions from the machine learning models, cycle times were pushed to the limit, as the sensors alerted when the target DoC had been reached.  
In line with these observations, the curing time could be reduced by an average of 4%. A fully dynamic adaptation of the curing time bears the potential for saving up to 9% in cycles that exhibit the fastest cure.  
Rico Zeiler, Specialist in Process Engineering at ZF, said the sensXPERT technology allowed more insight into material behavior throughout the molding process. Ultimately, in collaboration with sensXPERT, ZF reinforced sustainability and efficiency in their molding process. sensXPERT has demonstrated the potential for reduced cycle time, lowered energy usage, and decreased cost of goods sold in part production.  
Based on the results of the sensXPERT technology, the ZF Synergy Group Electronics' operations unit has decided to outfit all molds in all presses on its new production line with sensXPERT's process monitoring systems.