Dynamic process optimization turns sustainability challenges into success stories
sensXPERT Digital Mold enables the plastics industry to reach governmental and environmental sustainability goals.
How can the plastics industry meet the challenges around the European Green Deal, E.U. Taxonomy, and other international sustainability regulations? This is no longer a rhetorical question but must become a lived reality. sensXPERT, with its intelligent sensor technology, is making a significant contribution to creating sustainable, resource-saving, and circular plastic processing.
The plastics industry has always been blamed for global environmental and climate problems. Leaving a large carbon footprint through the incineration of plastic waste and endangering ecosystems with non-biodegradable materials, the plastics industry faces the challenge of becoming an environmentally sustainable and convincing society of its ongoing efforts. This can only be achieved by minimizing harmful processes and taking steps toward a circular economy. International laws such as the European Green Deal, reporting requirements, restricted financial market access, and other regulations considering the E.U. Taxonomy make these efforts just as necessary as our responsibility towards the planet, our fellow human beings, and our descendants.
Finding the opportunities for plastic processors in sustainability challenges
However, these challenges do not come without opportunity. Processors who invest in technology to make their manufacturing operations more sustainable will find it much easier to meet the taxonomy reporting requirements and ensure they keep their customers. In addition, they will also reduce their costs of goods and services (COGS) via decreased energy consumption, lowered material usage and scrap, improved quality, optimized human resources, shorter cycle times, and improved uptime. Overall equipment effectiveness (OEE) can also see an improvement, with lower wear on presses and molds, and improved production capacity – potentially delaying the need to make capital expenditures on new equipment. In the end, this can benefit everyone across the value chain.
Here, plastics processors can count on the support of an intelligent sensor technology: sensXPERT Digital Mold is the process control solution from NETZSCH Process Intelligence GmbH to improve their sustainable practices. It works alongside molding rigid plastics or elastomers and rubbers, neat, unreinforced polymers or composites, and with thermoplastic, thermoset, or vitrimer matrices. The sensXPERT solution provides moment-by-moment in-mold materials characterization and process data to predict how evolving conditions inside and outside the mold are likely to affect the ultimate performance of parts.
The software implements a digital component tracking to achieve new levels of understanding and control over the molding process. Molders can move quality assurance testing from downstream – where it is physically and temporally separate from the molding process – to inside the mold before parts are even ejected. sensXPERT achieves sustainable manufacturing through shorter cycle times, lower energy usage, and reduced scrap, while also providing the highest level of transparency necessary for meeting E.U. taxonomy reporting requirements. This is possible with the fully digital system presenting a complete digital thread for every product produced using the system.
What sensXPERT Digital Mold Solution really tackles
While pressure and temperature sensors are widely used in the manufacturing landscape, they do not provide comprehensive information as they are not able to capture material behavior at molecular level. With sensXPERT Digital Mold dielectric sensors determine these crucial parameters, e.g. the degree of cure and glass transition temperature, which are decisive for the quality and resistance of the end product. Thus, quality control as part of the ongoing process is the new standard the industry is aiming for. The in-mold sensor data is processed using artificial intelligence based on 50 years of experience in basic materials science, reaction kinetic simulations and real manufacturing data. sensXPERT is the game changer for the sustainable, resource-saving and data-driven plastics production of the future – and is aiming to pave the way for a sustainable and transparent circular plastic production.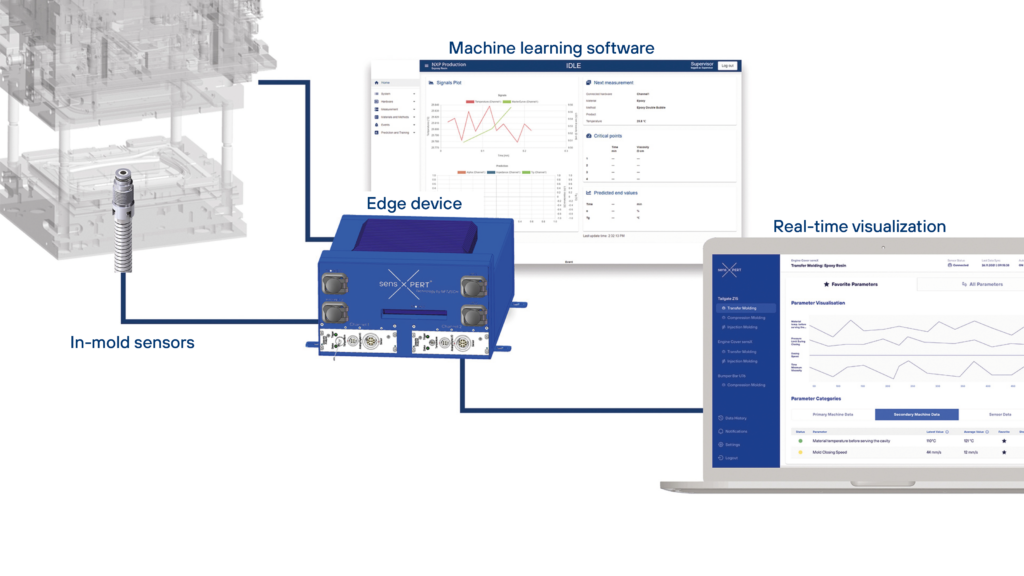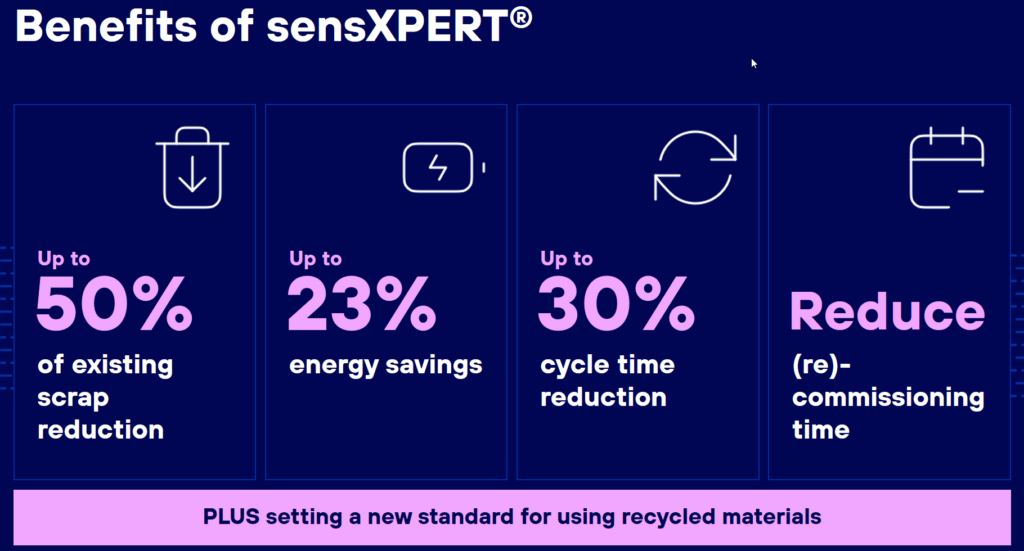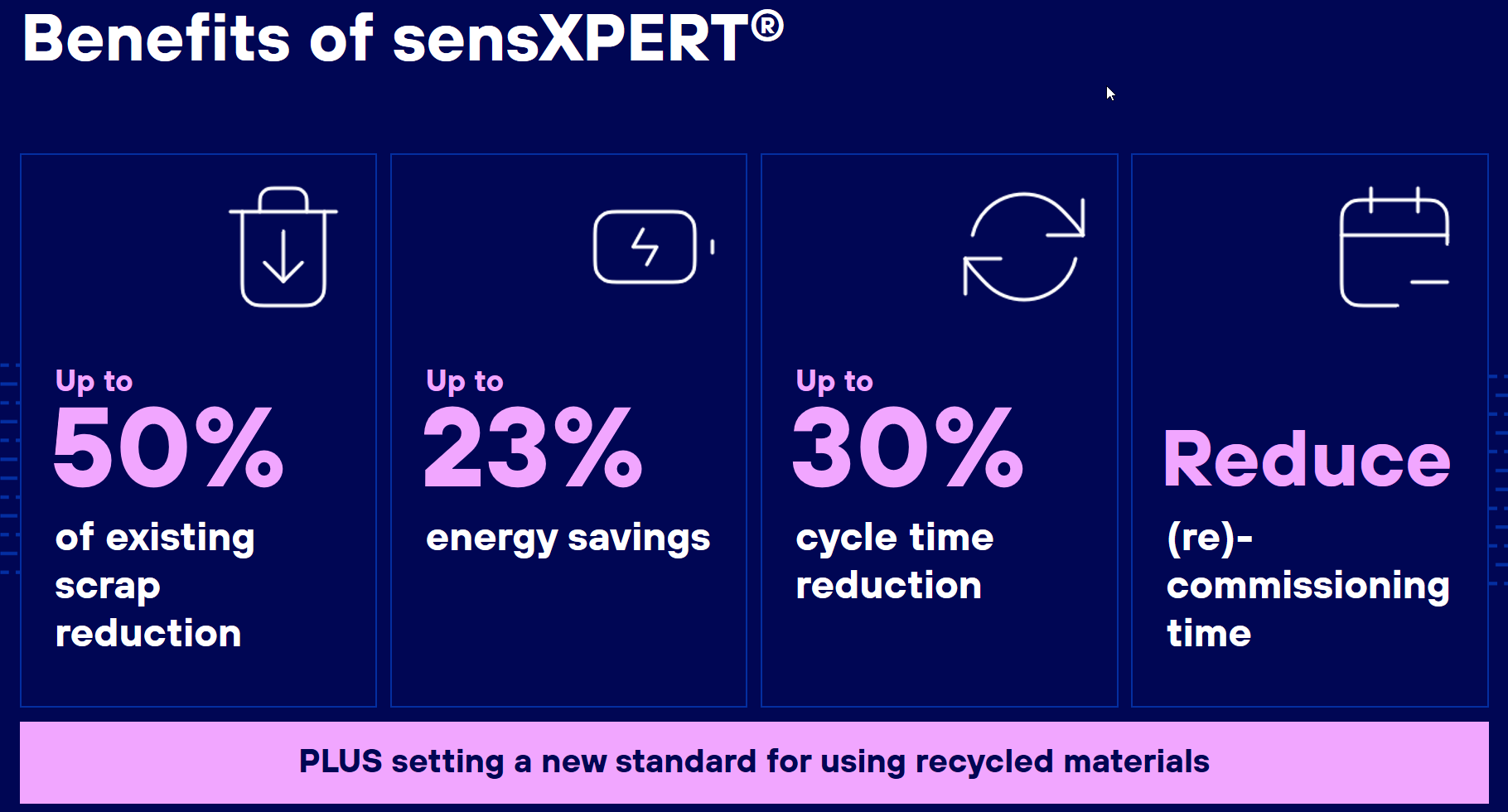 Contact
sensXPERT
Sabrina Fröhlich Communication Manager
Phone +49 9287 91918 5
E-mail sabrina.froehlich@sensXPERT.com