The sensXPERT Edge Device: Compact, hardened system ideal for industrial shop floors
If you have read much about our technology, then you know that our edge device plays a vital role in data collection and transfer as part of the sensXPERT real-time process monitoring system.
The edge device—a compact, hardened industrial personal computer loaded with our machine learning algorithms—is the main interface between dielectric sensors mounted in a mold that, in turn, is mounted in a press, and our Cloud-based data storage and analysis algorithms.
Designed for Industrial Environments
We all know that industrial environments can be rough on delicate electronic devices as it can get quite hot close to a press and dust is always a concern. As a result, when our sensXPERT team designed the edge device and our sister division NETZSCH Gerätebau, which also produces our dielectric sensors, built the edge device, we ensured that all components used could handle fluctuating temperatures and humidity levels. We also switched from conventional fans and filters to a passive cooling system, which not only is more effective at keeping electronics from overheating but also does a better job of keeping dust out. We even supply covers to close off any socket/outlet on the unit that are not in use to help keep the interior clean.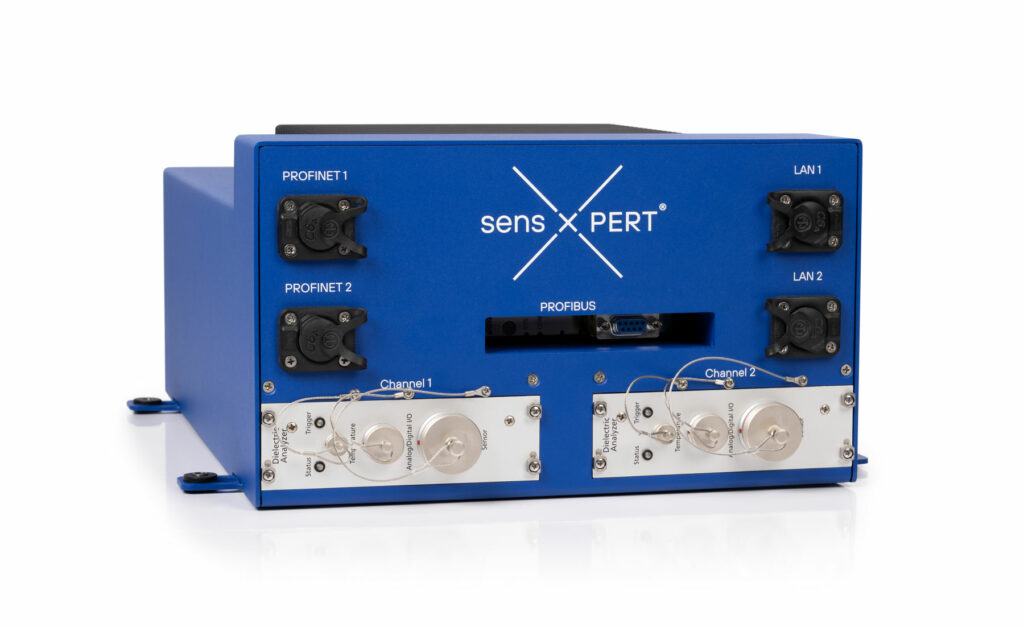 And because space on shot floors is always at a premium, our edge device in a sensXPERT blue case may be mounted either horizontally on a table or vertically on a post or column, providing molders with more installation options to assure the unit can be positioned as close to their instrumented mold and press as possible without disrupting a technician's mobility. Being as close as is practical to the instrumented mold ensures a very-high quality electrical signal.
Speaking of electrical signals, each edge device is designed for 24V DC current, which nearly every cabinet in a production environment is wired to distribute.
Ready for Industry 4.0 and Beyond
We also have designed our edge device to accept both analog and digital signals from the mold and press to provide real-time information on what is happening inside the tool as the molding cycle proceeds. However, to make our units compatible for the automation and digital twin/digital thread characteristic of Industry 4.0 and beyond, the units will come preloaded with OPC-UA, PROFIBUS, and PROFINET field bus interfaces. Additional interfaces will enable more connected manufacturing operations to share a wider range of data between the press and our edge device as well as local LAN systems and our Cloud-based app.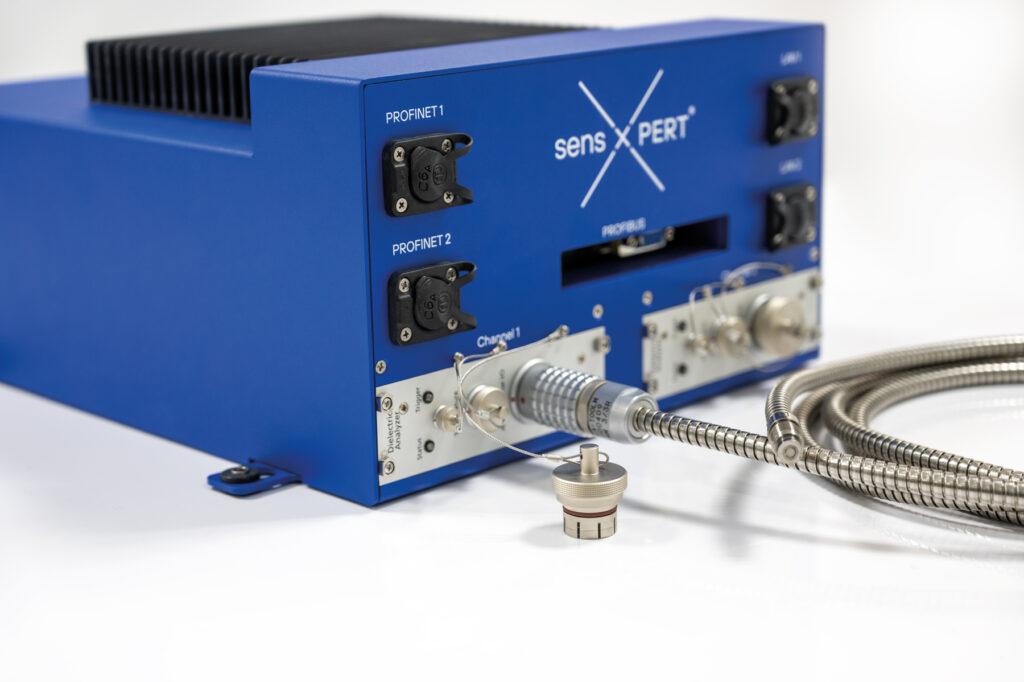 Software Increases Functionality
Each edge device arrives loaded with the latest generation of software/machine learning algorithms developed by sensXPERT to increase system functionality and ensure molders can access more information about their molding process faster. As the edge device sends data to our artificial intelligence (AI)-based algorithms in our Cloud-based app, our system looks for patterns and periodically retrains the edge device and mold/press to be more efficient in running a given material and process.
All capabilities and all customer data reside on the Cloud in a single secure application that is easy to access and review. This makes it simpler to monitor multiple machines in multiple facilities on multiple continents simultaneously and will help the least productive presses running the same material and process become much more efficient like the best presses.
Benefits sensXPERT Edge Device

– Both measuring device and industrial PC are combined in a single unit
– Unit has been "hardened" to protect it from heat, dust, and vibration that can be seen in an industrial environment
– Unit is Industry 4.0 automation-ready and can share a broad range of data with local LAN systems and the Cloud
– Software is updated and enhanced
– The app and all customer data reside in the Cloud in a single location, making it easier to compare process data from multiple machines in multiple locations in real time

About Marco Zier
Since 2021, Marco Zier has been Director of Research & Development at sensXPERT, a brand of NETZSCH Process Intelligence GmbH. Previously, he was the Project Leader on the team that developed sensXPERT's real-time in-mold sensing system. Marco joined NETZSCH-Gerätebau GmbH in 2009 where he worked for 11 years in a variety of technology management positions overseeing dielectric analysis technologies and installation of electrical automation and software technologies, achieving the position of Project Leader before joining the sensXPERT spinoff in 2019. He began his vocational training as an Energy Electronics Specialist with a focus on industrial engineering and process automation at British American Tobacco plc in 1999. He holds a degree in Electrical Engineering from the University of Applied Sciences in Regensburg.