JEC World 2023
Visit us in Hall 6 – R32 and catch our composites exchange on Wednesday, April 26, 2023 in Agora 6
From 25 – 27 April 2023, the composite world meets at JEC World 2023 in Paris. Book a personal meeting with our team, visit our booth at the industry's leading event and listen to our composites exchange.
Experience sensXPERT like never before in Hall 6 – R32
For the first time you will be able to experience sensXPERT on a whole new level.
We present our data-supported manufacturing solution at the joint stand of Bayern Innovativ. The sensor technology provides processing companies in the plastics industry with significant productivity and quality advantages. And not only the technology solution but also its form of presentation is innovative and for hands-on experience.
Go on a journey in a so-called AR Experience (Augmented Reality) using your smartphones or our tablets: How does the data-driven production solution really work? How can sensXPERT enrich my own plastics processing? How user-friendly and easy to implement is the technology in my production? In which ways does sensXPERT support me fulfilling governmental sustainability goals, such as Green Deal Law or EU Taxonomy?
Composites Exchange:
Real-Time Sensor Data + AI = Sustainable and Optimized Composite Production
26 April 2023 at 16:30 in Agora 6
Global regulation regarding sustainability and energy consumption creates a difficult challenge to overcome for the plastics industry. Simultaneously, the increasing demands of complex processes to produce high-quality parts obscure the interrelation between process parameters and material behavior. Manufacturers have the opportunity to embrace the technological possibilities that enable an increase in quality, productivity, and sustainability. An industry case study shows how the sensXPERT in-mold sensor solution tackles these challenges using real-time material characterization and data analytics. The result is an immediate improvement in waste reduction, cycle time optimization, and a decrease in energy costs per part. Rewatch the talk here!
Speaker: Dr. Alexander Chaloupka
We are a finalist for the JEC Innovation Awards 2023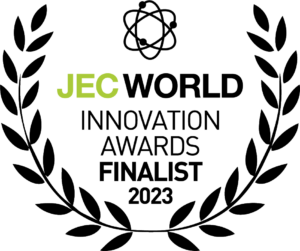 Every year, JEC Group rewards cutting-edge, creative projects demonstrating the full potential of innovation in the composite industry. The success of each competitor is closely linked to the partnerships and collective intelligence involved. This year have the honor of being a finalist in the Digital, AI, and Data category. Read more here.

1