CAMX 2023
We are an exhibitor at CAMX 2023 in Atlanta, Georgia. Meet us at booth T63 and experience sensXPERT Digital Mold.
Are you ready for an exciting event in the world of composites and advanced materials? We certainly are! We are an exhibitor at CAMX 2023 in Atlanta, Georgia. This premier event promises to be an unforgettable experience for professionals in the industry, and we can't wait to meet you there.
Booth T63: Your Destination for Innovation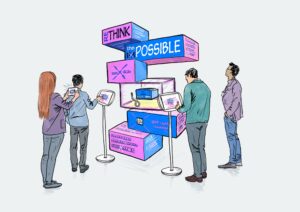 Be sure to mark your calendars and make your way to booth T63, where we will be showcasing our dynamic process control solution sensXPERT Digital Mold. Our booth is designed to be a hub of innovation, a place where you can explore cutting-edge technologies and solutions in the composites and advanced materials sector. Whether you're a seasoned industry veteran or just getting started, there's something for everyone at booth T63.
Our team of experts will be ready to provide in-depth demonstrations and answer any questions you may have. To ensure that you have dedicated time to discuss your specific needs and projects with us, you can schedule a meeting with Alec Redmann in advance.
Don't miss our talk
Tuesday, October 31 | 2 PM | Location: C102
In addition to our booth, we are excited to announce that we have a talk scheduled during CAMX 2023. Alec Redmann discusses challenges in manufacturing thermoset and composite parts due to variations in material batches and process variables, leading to unpredictable outcomes and the need for extensive quality control.
Real-Time Process Optimization Using In-Mold Dielectric Analysis and Machine Learning
Our talk introduces specialized dielectric analysis sensors, machine learning, and material models as tools to measure critical information during production, such as viscosity, cure level, and glass transition temperature, enabling real-time process parameter adjustments. The study also compares dielectric analysis to traditional methods like differential scanning calorimetry. Therefore, highlighting the suitability of dielectric analysis for in-mold integration in serial production, ultimately improving quality control and reducing cycle times by up to 30% in industry case studies.
Finalist for the ACE Award
We are incredibly proud to share that we are a finalist for the ACE (Achieving Composites Excellence) Award at CAMX 2023. This prestigious award recognizes companies and individuals who have demonstrated exceptional innovation and excellence in the composites and advanced materials industry. Being a finalist is a testament to our commitment to pushing the boundaries of what is possible in this field.

We invite you to join us during the award ceremony on Tuesday, October 31 from 2:00 PM – 2:30 PM at the ACE Awards Pavilion to celebrate this achievement and learn more about the groundbreaking project that has brought us to this point.

1