AI and Thermosets: Sustainability in the Plastics Industry
At present, the plastics manufacturing industry faces numerous challenges. One such challenge relates to the changing conditions of production environments and along plastics manufacturing supply chains. Changing conditions, as of late, have been highly attributed to the increasing focus on sustainability and recently introduced legal regulations, such as the Corporate Sustainability Reporting Directive (CSRD) which is part of the European Green Deal.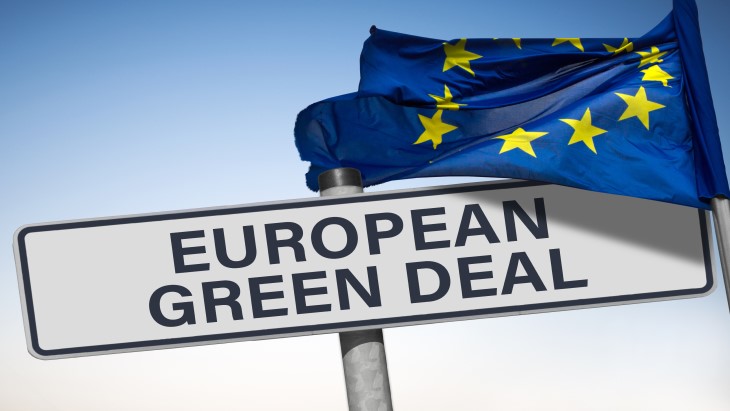 The CSRD is a legal directive that obliges corporations "to publish regular reports on the social and environmental risks they face, and on how their activities impact people and the environment" (European Commission). All large companies, as well as those listed, will have to adhere to the new rules from the 2024 fiscal year to publish their reports in 2025.
Regulations stemming from the EU Green Deal will have an impact on plastics manufacturers and their supply chain, specifically with the following changes coming into effect:
The trend towards sustainable end products and manufacturing places enormous pressure on all companies along the vertical value chain.
The development and use of sustainable and biodegradable plastics
A shortage of skilled labor combined with demands for increased production, higher product quality, and lower scrap rates, which make adopting smart manufacturing and AI solutions essential in adopting sustainable production.
The disruption of existing technologies, such as the replacement of combustion engines with e-mobility, which require innovative components and polymer-based materials that can cope with new, sustainable technologies.
The pressure to become more sustainable, along with the current Industry 4.0 evolution in the manufacturing industry, poses new challenges for processors, manufacturers, and end users.
Sustainable materials and production processes
As was established above, numerous industries are facing several challenges. For one, predetermined production practices have to be rethought and the materials used must be adapted to meet sustainable requirements. Accordingly, two main advancements have emerged:
On the one hand, sustainable materials that complement new technologies, such as e-mobility, have been developed.
On the other hand, there has been an upward trend towards the use of AI and smart manufacturing processes which lead to better products and lower scrap rates.
The role of reinforced plastics
Composites, such as those using thermosets, present numerous properties and advantages that the materials "of tomorrow" will have to exhibit. In comparison to conventional materials, thermosets offer:
Considerable design flexibility
Resistance to mechanical effects such as corrosion, deterioration, fatigue, and high temperatures.
What are thermosets?
Thermosets are particularly durable polymer materials known for their excellent thermomechanical properties.
Thermosets are formed by the chemical crosslinking of polymer molecules. During processing (e.g. injection molding), the material forms a three-dimensional, close-meshed molecular network that is highly resistant to any changes in shape or size after curing.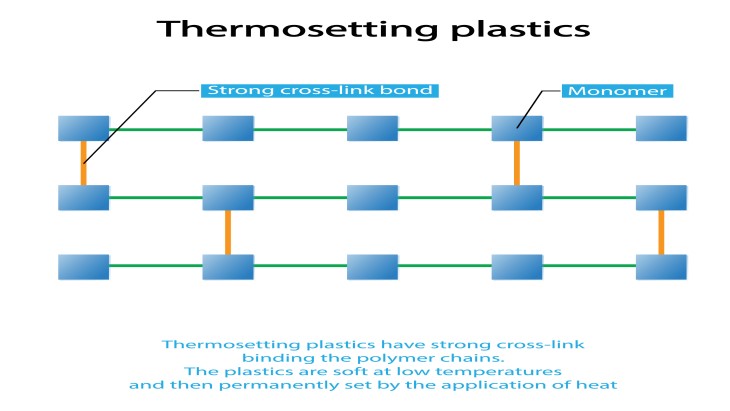 Once thermosets have cured, the plastic can no longer be melted and subsequently deformed. This characteristic fundamentally distinguishes thermosets from thermoplastics.
Thermosets are ideal materials for many industrial applications where heat deflection, temperature, and dimensional stability play an important role. For example, in engine compartments, safety helmets, car body parts, household appliances, insulation of electrical components, or for aircraft parts.
Advantages of thermosets
In contrast to thermoplastics, whose molecular chains are held together solely by physical bonding forces. In thermosets, it is the chemical bonds of the molecular network that provide high resistance to all types of stress.
Thermosets are resistant to heat, chemicals, deformation, and wear. In addition, they exhibit excellent electrical insulation properties. Therefore, thermosets are suitable for various industrial and commercial applications.
Thermosetting molding compounds can be processed by manufacturing methods such as injection molding, injection compression molding, or compression molding.
Properties in thermosets include:
Design flexibility
Lighter in weight and more cost-effective than components made of metals
Excellent electrical insulation properties
Excellent strength-to-weight ratio
Weather and water-resistant
Fire and heat resistance at high temperatures
Dimensional stability under extreme loads
What are thermosets already being successfully used for?
By using thermosetting materials, manufacturers can effectively respond to future market requirements and exploit the material's advantages, which include:
Low weight compared to metal
Heat resistance
Cost-effective production in established processes
Dimensional stability (even under high loads)
The ability to shape the material into desired forms
However, to take advantage of the positive effects of thermosets, it is necessary to wield a suitable control mechanism that overcomes certain processing pieces.
Example 1: Pump housing from the automotive sector (Bakelite company)
This part from the Bakelite company is injection molded from a phenolic resin compound reinforced with glass fiber. Due to its use in the automotive sector, it has to withstand temperatures from -40° C to 150° C. It is constantly in contact with an aggressive water-glycol mixture. At the same time, it must be dimensionally stable to permanently withstand the vibrations and forces in the engine.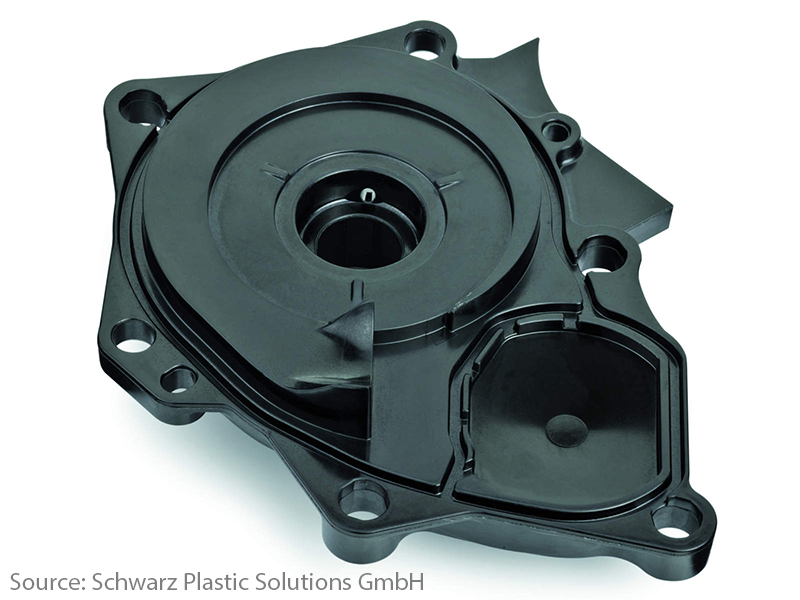 Example 2: Printed circuit board (Raschig company)
To function in a permanently stable way, the printed circuit boards (PCB), which are equipped with many sensitive components (chips, capacitors, coils), must be effectively protected from environmental influences. The low temperatures during overmolding and the low viscosity allow very low pressures, which is why the components do not suffer any damage.
In addition, the overmolded elements are so robust that they can be screwed together without additional metal bushings.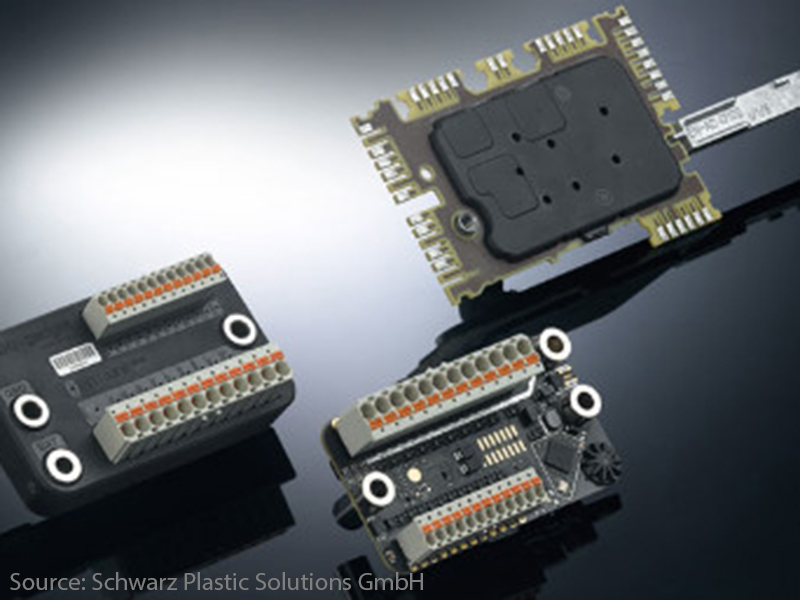 The interplay between AI and thermosets
From raw material to finished products, thermoset materials are exposed to various environmental and production influences as they turn into an end product. This variance can hurt the quality and stability of the end product.
During production, the temperature and thermal insulation of the production material must be constantly monitored. This is the only way to guarantee low scrap rates and a final product with stable quality.
Since thermoset materials are susceptible to changes in production, it is almost impossible for non-expert personnel to consistently produce high-quality end products.
Given the increasing shortage of skilled workers and limited understanding of the processing properties of thermosets, working with the plastic presents challenges for many companies. New technologies are needed to unleash the benefits of thermosets in the future to ensure consistent, high-quality production.
Using AI in the processing of thermosets
In the fabrication of thermoset components, the use of artificial intelligence (AI) leads to significant production benefits.
The interaction of sensors, AI software, and tools makes the thermoset manufacturing "black box" transparent for the first time. The newly acquired information can be used to control production cycles and make necessary adjustments accordingly.
sensXPERT: The future of thermoset production
How can you produce high-quality thermoset components quickly and with consistent quality? The answer is with sensXPERT.
sensXPERT combines real-time material data from your mold with advanced machine learning software to analyze material behavior.
The technology enables you to continuously optimize your process, thus increasing your production efficiency by up to 30 percent.
The sensors in the mold provide real-time insights and create transparency to respond to material deviations and reduce scrap.
sensXPERT enables the direct quality control of each molded part during production. Since sensXPERT works on previously tested data, quality can be documented without gaps even with adjusted process control.
Your advantages when you use sensXPERT in your production:
Increase your production efficiency by up to 30%.
Use of a technology that enables you to continuously optimize your processes based on the sensor-supported machine, tool, and real-time material data
Inspection capability of the final product
Real-time access to material characterization data will help you form better parts faster at lower costs.